Winter 2008-2009
"This is a brand new day...la la la.": In February Cameron started started working at Target. After an intense two-week training period, he's settled into about 15 hours a week. For now he's a floor worker, tidying shelves and helping "guests." Worst experience so far: getting called to aisle 19B to mop vomit off the floor. Best experience: his first paycheck!
July in January: After our unusually cold and wet December, an early January trip to Honolulu, Hawaii, for Jan, Amy and Sofia (Cameron got left behind for school, but he has a special trip coming up later this spring) was especially welcome! The temperature was a steady 78° to 80° all week, with sunny skies and gentle breezes. That, alone, made it feel like paradise. But we also had a great time doing lots of kid-friendly activities: We stayed at the ResortQuest Waikiki Beach Hotel, a perfect place for children with a soft-sand, sea-wall protected beach immediately across the street, and in between hours on the beach we visited the Honolulu Zoo, Waikiki Aquarium, Bishop Museum, Polynesian Cultural Center, and Sea Life Park. We also rented a car for one day and drove around the island, ate shave ice and pineapple macadamia nut cheesecake, took a hula lesson, drank Blue Hawaii's, and walked on the beach at 8:00 in the evening in shorts. Saying "Aloha" (which, as Sofia told every stranger while we were there, means hello, I love you, and goodbye) at the end of the week was very hard to do! (See Sofia's Album for more.)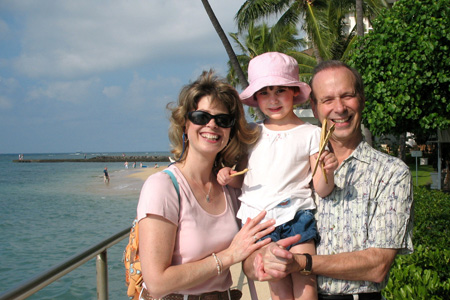 Walking Waikiki
Can a Christmas be too white? From the 14th through the 25th we had nearly two weeks of record-breaking, below-freezing temperatures, with lots of precipitation to go with it. As a result, we had record-breaking amounts of snow, and each morning began with uncertainty as to whether we'd be able to get out of the driveway and accomplish the day's chores. In fact, the schools closed three days before the winter break officially began, and Amy missed three days of work, unable to drive or even get to a bus. By Christmas Day, we had over 24 inches on our back porch!
We felt grateful to make the drive to Edmonds and back for Christmas Eve, and on Christmas Day Jan was able to get out, with chains, to pick Grandma up a few blocks away. However, on the way back he got stuck in the driveway! (Cameron helped dig him out.)
After Christmas, the larger streets were passable, but we were unable to get out of our driveway and local road until Sunday the 28th. (And Jan broke the chains on both front tires while trying!)
The snow was often spectacularly beautiful, and the kids had a blast playing in it. But we are SO ready for some good ol' Seattle rain!
Snow highs and lows: Digging the car out at 10:00 Christmas Day; Cameron and Sofia sledding in our front yard.
Christmas tradition: Once again, we went to Molbak's for the year's Christmas photo. Cameron has been doing this since 1992, the year he was born. Besides the photo, the kids often pick out their annual tree ornament. This year Sofia, who is interested in nature and animals, chose a fawn on a ski carrying two mice and two bluebirds. Cameron's was also very appropriate to his interests: a miniature Ford car engine!
Merry Christmas / Gelukkig Kerstmis
Happy New Year / Gelukkig Nieuwe Jaar!
from Cameron, Sofia, Amy and Jan
Santa visit: Sofia visited Santa on December 15th. (For the past few years we've visited the Bellevue Square Nordstrom's Santa—he and his photographer are the best!) Sofia told Santa she would like a dollhouse (check), a cupcake decorator (check—a popular girly item this year), and... a reindeer costume (?!). (Uh-oh, we anticipate a "teachable moment" early on Christmas day!) After photos, Santa looked Sofia in the eye and told her to listen to her mother, brush her teeth every night, and clean her room. Sofia listened to this very seriously. Then she gave him a big hug. We finished the evening outside (in the very, very cold) watching the drummers, costumed characters, lights, and snow during the Snowflake Lane presentation along Bellevue Way. What a fun holiday evening!
Early white: We had the season's first snowfall on December 14th. Sofia was SO excited! She was up, out of bed, and ready to play in a flash. Jan took her out for some sledding and snowballing. The region has also been setting records for cold temperatures—only as high as the teens for a few days. The meteorologists are saying there's a possibility we'll have a white Christmas this year....
Sinterklaas: From the time that Thanksgiving ended, we began celebrating Sinterklaas in our house. Zwarte Piet came every night and left candies and small toys in Sofia and Cameron's klompjes (wooden shoes) on the hearth. Sofia couldn't wait to get downstairs each morning to check them. The evening of December 5th, Grandma came over and we ate our annual dinner of waffles and fruit. Then Sinterklaas knocked on the door and left a bag of gifts, chocolate, and poems. Sofia just about jumped out of her skin with excitement! The next day the Oranjeschool celebrated with a morning party and visit from Sinterklaas. In the afternoon we went to Lake Forest Park for another party hosted by the Holland-America Club. By the end of the 6th, we had certainly done our share of celebrating Sinterklaas!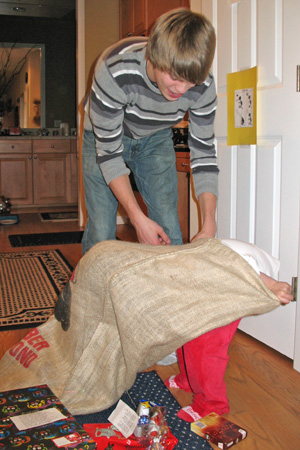 Cameron and Sofia (in the bag) retrieve presents from Sinterklaas December 5th
[ Home ] [ Our Travels ] [ Family Features ] [ About Us ]