Winter 2011
Silly, sassy, smart, smiling....seven! Sofia had quite a birthday weekend. She brought red velvet cupcakes she helped bake and decorate herself to her elementary school and to Oranjeschool. She went shopping with Grandma Bonnie in Edmonds for a birthday gift. She went to Red Robin for her birthday dinner with family, where the waiters clapped, sang, and served her a complimentary hot fudge sundae. Best of all was her Pokemon-themed children's party, attended by nine young friends, at Chuck E. Cheese's game and pizza parlor. Sofia had the time of her life playing games, winning tickets, and getting the full birthday princess treatment during the birthday show. In fact, she had such a wonderful time that Amy and Jan didn't even regret the ear-damaging noise and inedible pizza.
Beaming as if she were being crowned Miss America, Sofia enjoys the Chuck E. Cheese birthday show
Final checkered flag: After a couple years of advertising, Jan finally sold his Porsche GT3 Cup car that he's owned since spring 2002. He'd driven it very little since Sofia's arrival in 2004, and not at all in the last two years. Still, its departure to Edmonton, Canada, is bittersweet for Jan, the end of a fun and challenging (if sometimes uncomfortably expensive) chapter in his life. Happy trails to the car and its new owner...

Merry Christmas / Gelukkig Kerstmis
Happy New Year / Gelukkig Nieuwe Jaar
from Jan, Sofia, Amy and Cameron
Early winter: Seattle received a cold, wet surprise in the form of a region-blanketing snowstorm on November 22nd, four days before Thanksgiving. Besides inches of snow, the area's temperatures hovered in the 20s even during the day (very unusual for Seattle), and the resulting icy roads meant that even the University of Washington shut down for two days (also unusual). Cameron happened to be on the Eastside and so got stuck at our house for the adventure. Sofia loved the opportunity to exchange her school clothes for ski pants and a sled. Fortunately, the roads were easily passable by Thanksgiving day.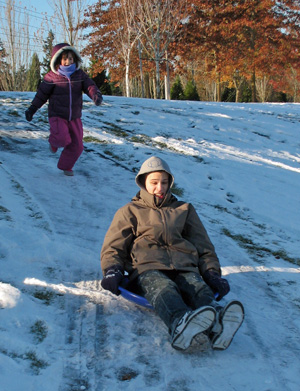 Sofia and Cameron take advantage of a snowy hill